About SERVPRO of Manchester / Mansfield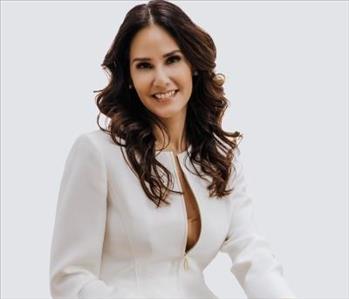 SERVPRO of Manchester/Mansfield is a female minority-owned business
Owner - Noemi T DiCristofaro, MD
Noemi received her Bachelors of Science in Chemistry and Biochemistry from New Mexico State University and an MD from the University of New Mexico School of Medicine. After practicing medicine in Connecticut she decided to use her strong business capabilities and purchased SERVPRO of Manchester/Mansfield. Her business ventures quickly expanded to multiple businesses servicing residential and commercial customers in the areas of Fire, Water, Mold, Storm, Asbestos, and Biohazard Damage Cleanup. As well as Restoration and Construction Services in Commercial and Residential General Contracting. Her SERVPRO franchises have been a strong success and grown to be the largest SERVPRO in Connecticut and one of the 12 largest in the nation.
Learn About the Team at SERVPRO of Manchester/Mansfield
Providing superior water, fire smoke, biochemical cleanup, and mold damage restoration services to homes and businesses in the Manchester and Mansfield, Connecticut area. We want you to know that hope is not lost after a tragic event and you won't have to throw out all your precious belongings and start over with the experts at SERVPRO on the job. Talk to us about water damage recovery and other restoration services today.
SERVPRO: A Trusted Name in Cleanup and Restoration Services
SERVPRO is a trusted franchise name that offers a superior opportunity for people looking to start a family business. They provide support and training to ensure that each location maintains the same level of quality and customer service that has come to be associated with the name.
SERVPRO began as a small enterprise in 1967 and has grown to encompass a system of over 1800 qualified franchise locations all across the US. Each and every locale is required to meet the high expectations held by SERVPRO corporate in order to continue using the SERVPRO name.
The Manchester/Mansfield Difference
The Manchester/Mansfield SERVPRO location is owned and managed by Noemi DiCristofaro who holds herself and her employees to an even higher standard than that of SERVPRO corporate. As a result, she has won many awards from SERVPRO corporate, recognizing her commitment to quality cleaning and restoration services as well as superior customer service.
Noemi and her team have proudly served their community and the SERVPRO professionals can always be found on the front lines of natural disasters, storm flooding, house and business fires, and more in Connecticut. Check out what makes our location one of the best of all the SERVPRO locations in the United States!
Superior Customer Service
At the Manchester/Mansfield location, we believe that customer service is the most important aspect of our service. Customers are the lifeblood of our business and as such we want every single one to be 100% satisfied with our services.
We try to always have someone on hand to answer the phone so you're never left struggling with an automated system or playing phone tag. And if there is something about your service with which you're not completely satisfied, we will do our utmost to make it right.
Highly Trained Staff
We also firmly believe that our water damage restoration and other cleanup services are a cut above the rest. All of our employees begin training at SERVPRO's franchise training facility. There they learn the superior techniques that SERVPRO uses to thoroughly clean and restore different materials to their previous condition. They are also required to take regular refreshers to stay up to date on all the best cleaning and restoration techniques. Plus, as is normal for professionals in our industry they maintain regular IICRC industry certification.
On top of all this, as a team here at SERVPRO of Manchester/Mansfield, we hold ourselves and each other to an even higher standard. When we say that we'll make it "Like it never even happened," we aren't kidding. And we aren't satisfied until you can say to us that you can't tell your items were ever damaged.
A Commitment to Keep Restoration Costs Low
We're already helping you save money by restoring your possessions rather than throwing them out and buying all new ones. However, we are committed to keeping even those restoration costs as low as possible.
How?
Think about what happens when you spill a glass of red wine on the carpet in your Manchester or Mansfield home or business. You don't casually look at it and think to yourself that you'll deal with it later. Instead, you immediately spring into action, soaking up the liquid and cleaning the carpet with whatever soap you have on hand as quickly as possible.
Why? Because you know that the longer you wait, the more time that red liquid has to seep into other areas of your carpet, causing more damage. The resulting stain will also be more difficult, if not impossible to remove, if it is allowed time to dry and set.
The same concept applies to cleaning up after a natural disaster, burst pipe, or fire. The longer it takes to start cleaning up, the harder it will be to restore the items. More damage can occur and stains can further develop and deepen.
That's not to say that the items can't ever be fully cleaned. However, it will probably take longer and thus cost more to do it.
Call us immediately after the event has occurred and we will dispatch a team as soon as possible to get to work.
Ongoing Customer Education
Another way we proudly serve our customers is by providing a wealth of information on our website about related topics. Check out our blog for lots of information. There, you'll see everything from Manchester and Mansfield community events to tons of information on what to do during a natural disaster, how to prevent fires in your home or business, and how to be safe during a storm (especially in the middle of a pandemic).
We firmly believe that if you already know what to do when faced with these situations, you can greatly mitigate the damage. This makes our water damage repair or fire smoke damage restoration job easier (and less expensive) and ensures that more of your items can be fully cleaned and restored.
Overview of Our Services
What kind of cleaning and restoration services do we offer in the Manchester and Mansfield, CT area? Take a look at all the troubles we can help with.
Water Damage Restoration Services
Water damage can happen to any home or business in Manchester and Mansfield, Connecticut. A burst pipe, an overflowing washing machine or dishwasher, a backed-up toilet (shudder) — all these events can lead to water damage in your home or business.
What's more, water damage is extremely difficult to fully clean up yourself. In some cases, such as an overflowing toilet, you might not even want to try.
However, even if the water that caused the damage is "clean", you'll want to call for professional water damage recovery services. Why? Because water gets into everything. From the moment it begins flooding into your Manchester or Mansfield home or business, it's seeping into cracks and crevices, getting under the floor and soaking the insulation in the walls.
Without professional water damage restoration equipment, it's difficult to ensure that you get it all fully dried out.
If you don't get it dry as a bone, you could be leaving yourself open to health effects in the future. Mold and mildew love to grow in dark, damp areas. Your water-damaged property is the perfect breeding ground for these dangerous spores to take root. Before long you could have a healthy colony growing, effectively destroying the health of your indoor air.
Don't let this go on for long, particularly if you have anyone in your home that suffers from allergies, asthma, or other respiratory problems. Breathing too many mold spores can have an impact on their health. Call for water damage repair services immediately.
Floodwater Recovery Services
Floodwater is even worse than water from your pipes. In addition to posing the same threat of stains and mold infestations as clean water in your Manchester or Mansfield home or business, floodwater brings a ton of dangerous bacteria and pathogens into your building. Many of these could pose immediate risk to your health.
Before slogging through your flood-damaged home or business and trying to handle things yourself, call the experts at SERVPRO in Manchester/Mansfield. Our water damage recovery services will ensure that all dangerous bacteria and pathogens are killed and cleaned away, all items are fully dried out, and everything is restored to its previous condition.
It will seriously be "Like it never even happened."
Mold Damage Cleanup and Restoration Services
If you discover that mold has taken root in your Manchester or Mansfield home or business, don't disturb the colony. This can release spores into the air which may be dangerous for you to inhale. Additionally, these spores will often float around looking for a new hospitable site. By messing with the mold, you could be encouraging it to start a new colony in another area of your building.
Instead, call the experts in mold damage cleanup and restoration at your local SERVPRO in Manchester/Mansfield. With our equipment, we can keep the mold or mildew contained while we thoroughly clear out the mold and clean the area.
If mold has been growing long enough, it can often leave behind a stain when it is removed. However, our mold damage repair is so thorough that even you won't be able to tell that your items had been damaged once we get through with them!
Remember, mold is incredibly difficult to find as it can grow inside the walls or under the floor where no one can see. In fact, the first indication that you have a mold problem is often the fact that you can smell a musty odor in the building. We'll do our best, however, to find and destroy as much of the mold as we can to reduce the amount affecting your indoor air.
Fire Smoke Damage Restoration Services
A fire in your Manchester/Mansfield home or business is a tragic event. Unfortunately, many items are burned beyond repair during a fire. Others, however, are only damaged by the presence of smoke or soot. This can leave dark stains or make the item take on a smoky smell.
If you've ever tried to wash "campfire smell" out of your hair or clothes after an evening around the bonfire, you know how hard it is to do. There's something about the smoke that causes the scent to cling to everything and make it impossible to get out.
Unless, of course, you call for SERVPRO's fire smoke damage repair services. Using proven techniques that actually work, we can erase the vestiges of the fire to restore your items. You won't be able to detect even the hint of smoke and even you will have a hard time believing this item survived a fire in your building!
Biochemical Spills Cleanup
Have you suffered a biochemical spill at your Manchester or Mansfield business? Depending on the biochemical that was released, it can be very dangerous for you to handle it on your own. Count on the professionals at your local SERVPRO instead to ensure that the spill is properly contained and cleaned up. We offer biochemical cleanup services that
And, of course, if there was any damage to your building or possessions, we will make it "Like it never even happened."
What Our Customers Say About Us
We've told you a lot about our little Manchester/Mansfield SERVPRO location. We hope you feel like you're getting to know us! However, don't just take our word for how we treat our customers. Check out what our customers appreciate our team and our services.
Location
Where can you find us? Our teams are everywhere, offering restoration services to homes and businesses all around Manchester and Mansfield, CT. We're also out serving our community through charity events, civic events, and other fun festivities.


We are proud to serve our local communities:
Mansfield, CT
Coventry, CT
Hebron, CT
Bolton, CT
Manchester, CT
Andover, CT
Columbia, CT
Ready for the Best Water, Fire, Mold, or Biochemical Cleanup Services in Manchester/Mansfield, CT?
As soon as an event occurs causing damage to your home, call us at SERVPRO in Manchester, CT! The sooner our cleaning professionals are on the job, the faster your possessions can be restored to their previous condition. Count on us for fire smoke damage recovery, mold damage repair, biochemical spill cleanup, and water damage recovery and restoration services of all types.
Insurance and Payment Information
For a stress free claims process, SERVPRO works with your insurance to help manage the insurance process and paperwork.
We also accept the following credit cards for your convenience:

Certifications
Accredited Asbestos Abatement contractor/supervisor
AMRT - Applied Microbial Remediation Technician
ASD - Applied Structural Drying Technician
CCT - Carpet Cleaning Technician
ECTP - Employee Certification Training Program
FSRT - Fire & Smoke Damage Restoration Technician
HST - Health and safety Technician
IICRC Certified Firm
OSHA - 10-hour General and/or Construction Industry Training Program
OSHA - 30-hour General and/or Construction Industry Training Program
RRRP - Lead-Based Paint Activities and Renovation
WRT - Water Damage Restoration Technician
Affiliations
Bloomfield Chamber of Commerce
Bloomfield Rotary
Blue Goose International
Building Owners and Managers Association
Community Association Institute
New England Claims Executive Association
Risk & Insurance Management Society
Society of Industrial and Office Realtors
Awards
Director's Gold Award
C.E.O. Creating an Execellent Organization Award
Rolex Award
Entrepreneur Magazine's Top 10 Franchise List
Founders Bronze Award for Outstanding Sales Performance (Top 25 Nationally)
Founders Gold Award for Outstanding 2016 Sales Performance (Top 25 Nationally)